2019 Legal Finance Report: Key takeaways
Since 2012, Burford has published an annual research report covering the trends and developments in legal finance. This year we do so again with the 2019 Legal Finance Report—the release of which coincides with Burford's 10th anniversary.
Over the course of the last decade, we have seen the business of legal finance evolve from a relatively unknown and niche practice to a more mature and sophisticated industry, embraced by top law firms and in-house legal teams. In an era of growth, our 2019 Legal Finance Report reflects the industry's continuing evolution—a decade in the making.
Legal finance continues its ongoing evolution in the legal landscape
The industry has evolved from being known as a necessary measure for small companies without better financing options, to being recognized as simply another form of financing—a regular fixture for small, cash-poor companies and large, cash-rich companies alike. Not only do legal professionals recognize the benefit of legal finance, but they are more particular in how they view and work with potential legal finance providers. Based on the 2019 report, a majority of lawyers cite reputation, track record or expertise as the most important qualities in selecting a legal finance provider, with the cost of capital least likely to be cited.
In-house lawyers are eager to integrate legal finance as core business practice
To offload cost and risk and to create certainty around legal spend, in-house lawyers are increasingly eager to integrate legal finance into their standard business practices.
A US general counsel respondent echoes this sentiment: "It all comes down to predictability. If you have a predictable level of expense, you can plan accordingly. The lack of predictability in litigation can impair the ability to create a rational decision." To provide that stability, meet commercial requirements and manage timing and spend, in-house lawyers look to legal finance.

In a buyer's market, law firms look to legal finance to stay competitive
As companies push back on hourly fees, lawyers more readily accept and embrace legal finance as a normal business tool that helps retain existing clients. And for firms already working on contingency, legal finance provides an opportunity to win new business. As indicated in the research, three out of four lawyers agree that "the more law firms innovate how they use outside finance, the better equipped they will be to serve clients." Clients now expect firms to provide a proactive solution to cost management—and legal finance provides that solution.
Legal teams and law firms look to shift costs and recession-proof their budgets
In the face of a possible economic downturn, legal budgets will be reduced. To compensate, firms and companies should take proactive measures to put the right tools in place ahead of a downturn. According to a 2019 study conducted by Russell Reynolds Associates, 97% of GCs say a recession is likely in the near future, but just 14% say they're prepared. Further, as reported the 2019 Managing Legal Risk Report, a majority of CFOs and finance professionals (66.9%) agree that if the economy enters a recession, they will advocate for the reduction of legal budgets. Not surprisingly, then, a majority of lawyers say that use of legal finance will increase in a downturn (69.5%).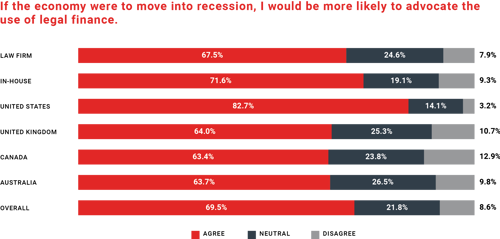 Conclusion
The growth of legal finance can be attributed to the increasing recognition of legal finance as a strategic and high-value business tool by law firms and legal teams. Our 2019 research confirms that the legal industry is becoming more sophisticated in its use of legal finance—and we look forward to partnering with in-house and law firm lawyers in our second decade to help them continue to elevate the value the derive from their legal assets and how they use legal finance.