2021 Legal Asset Report: Food and beverage insights
With tight profit margins and high overheads already typical, many food and beverage businesses are still recovering from the challenges of the last 18 months. During Covid, suppliers faced abrupt order cancellations due to restaurant closures, stranding produce upstream and causing logistical bottlenecks. To recover from the disruption, companies in the sector are now seeking to maximize cash flow and minimize expenditure.
As they look for ways to enhance liquidity and reduce risk, companies may want to consider their legal assets, which can represent significant future value. For instance, food companies may have high-value antitrust claims against malfeasant suppliers, business interruption insurance claims, supply chain contract and food safety claims, among others. These claims represent an opportunity to recover value for the business and maximize returns to shareholders through the legal department.
Burford's recent 2021 Legal Asset Report explores how CFOs are bringing a financial mindset to the legal department by using tools like legal finance to manage current legal costs and accelerate the value of pending claims. It includes a food and beverage industry snapshot, which looks at how CFOs view their legal assets. Below are some key takeaways:
CFOs could benefit from more extensive cost management programs
Only 68% of senior finance professionals in the sector reported extensive legal cost management programs—below average—and just 37% felt that these programs meet company needs. These programs are essential for keeping legal expenses down.
Additionally, just 53% of finance professionals in the sector reported extensive affirmative recovery programs—again, below average. Affirmative recovery programs generate capital by pursuing meritorious litigation to return money to the business. DuPont, The Home Depot, Tyco and Ford have all generated headlines for such programs, some of which have led to eyepopping returns.
Companies that lack extensive and effective recovery programs run the risk of leaving money on the table.
Food and beverage companies have an opportunity to quantify litigation
CFOs conduct quantitative financial modeling in many areas of their business, but few companies report that such thinking is applied when it comes to making decisions about high-value litigation. Indeed, 68% of food and beverage companies are not doing so. Modeling litigation risk presents the opportunity for a different—and more commercial—mindset about these valuable legal assets. More data and a better concept of the relative risks and rewards of pursuing potential claims could enhance decision-making. 
62% of food company CFOs say that they choose not to conduct modeling of litigation because litigation variables don't lend themselves to quantitative analysis. This suggests that legal finance—where quantitative analysis is a core area of expertise—may be of real use. Large commercial legal finance providers like Burford have a wealth of historical information and data, which we can draw upon to model outcomes with a high degree of accuracy. Burford has built extensive statistical models and decision science tools based on proprietary data about commercial disputes to predict return on these assets.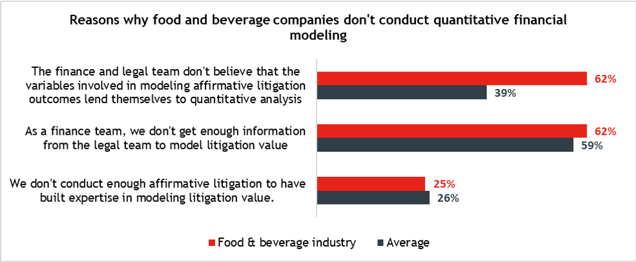 CFOs can use legal finance to increase working capital
According to the 2021 Legal Asset Report, financial officers in the food and beverage industry were significantly more likely than their peers to name impact on capital stack as a key consideration when evaluating the impact of litigation, suggesting a particular concern with taking on additional debt.
Legal finance is not debt. It is non-recourse capital, meaning that a return on investment is collected only if the matter successfully resolves, providing working capital that can be used for other business purposes.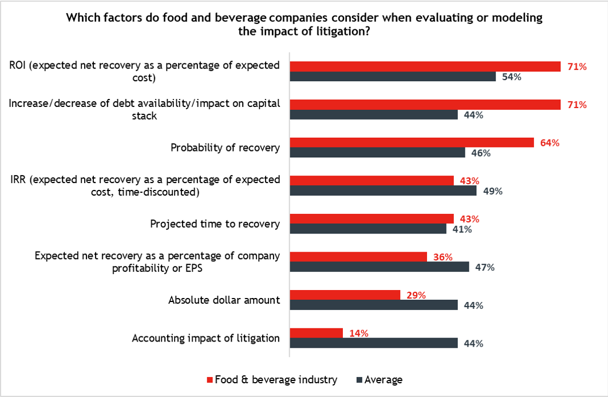 Case study: Fortune 500 food brand name enhances liquidity by monetizing a valuable antitrust claim.
A household name Fortune 500 company had a large and meritorious opt-out claim against producers for anticompetitive collusion. Simultaneously, it needed to cut costs due to revenue generation pressures following a brief decline in profits.
Without ceding control of the matter, the client was able to monetize a meaningful portion of the expected proceeds from its opt-out claim and provide $29 million in capital. Burford provided upfront capital for a portion of the opt-out claim, allowing the client to pursue the meritorious litigation without incurring additional downside risk.
The company was able to realize the value locked away in the contingent legal assets significantly in advance of a litigation resolution and was able to use the immediate cash injection for strategic business purposes on the company's schedule.