Legal finance trends among APAC GCs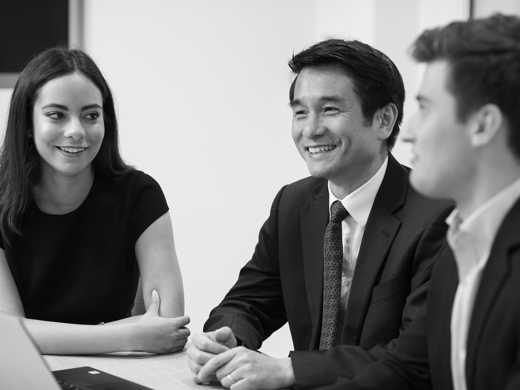 Burford recently commissioned research into how macroeconomic trends are impacting the expectations of senior in-house lawyers globally of their law firm partners. While certain responses to Burford's latest independent research, 2023 Litigation economics: Leading GCs on managing costs, maximizing recoveries & law firm expectations in an uncertain economy, were consistent across geographies—like the expectation for more litigation in a struggling economy—geographic trends still emerge.
Here we examine responses from GCs and senior in-house lawyers in the Asia-Pacific region.
In-house lawyers in Asia expect to see more disputes
Nearly three out of four (74%) senior in-house lawyers agree: Businesses are likely to see a rise in commercial litigation and arbitration over the next two years, particularly if the economy weakens. "There will be more litigation", as one Singapore-based in-house lawyer said plainly—a response echoed by in-house lawyers in Hong Kong, India and Australia.
Despite the shared sentiment, however, there were distinct insights from market to market. For instance:
·         In Singapore, one in-house lawyer expected to see a rise in defaults, which could trigger insolvency proceedings (many of which could be strong candidates for legal finance).
·         One in-house lawyer at an Indian company noted, "In India, companies prefer not to litigate because it is expensive and time-consuming", which could in turn mean that, absent financing, claims in the Indian market may struggle to be brought.
·         In Australia, an in-house lawyer noted that "the law department is focused on enabling the position of the organization and whether it is enhancing its strategic objectives," signaling an appetite among Australian in-house lawyers for greater maturity in the legal finance market as "corporate finance for law".
In-house lawyers in the region expect risk-sharing solutions from their law firms
There were differences of familiarity with legal finance across APAC, but in-house lawyers in those geographies generally reported feeling that litigation is too expensive, that they wish to offload the cost associated with it and that they are open to financing options—but they will need guidance from trusted sources to get there, especially from their law firms.
As one Singapore-based in-house lawyer noted: "It can be a value-add if the law firm can offer various options and can provide guidance on ways to reduce risk or increase predictability. If we can achieve the same result with more definitive or lower costs, we would be very interested and willing to listen."
Separately, an in-house lawyer based in India said, "Regardless of the economy, money is important in commercial matters, so the client relies on their law firm to provide details on options that will help. We want guidance on legal advice as well as on exposure to risk and cost." Another respondent from the same market cautioned, however, that "the lawyers have to avoid the appearance of risk-sharing."
Reputational risk and geopolitical factors are key considerations
In deciding whether to bring litigation, reputation and geopolitical risks emerged as key considerations for companies in Asia. One Hong-Kong-based lawyer said: "Reputational risk is always a concern. As a utility, we don't want to be seen as too aggressive toward some customers in some markets. It will come down to our view on the merits of the matter. As a result of the maturity of our business, we may want to pursue a matter to set a precedent and protect the company's interest."
This sentiment was shared by a variety of other in-house lawyers. For instance, one Singapore-based in-house lawyer quipped: "we are not in the business of suing our customers and consider affirmative litigation very carefully." But beyond the usual reputational concerns that accompany litigation, various geopolitical risks were also invoked by respondents. A couple of comments stood out:
·         Hong Kong: "Geopolitical tension has extensive risks. In Hong Kong, for example, we have never had to worry about sanctions or export controls, but they have become concerns. Countries are making rules that are having an impact on business. There are also foreign-directed investment approvals increasing due to geopolitical tensions."
·         Singapore: "The events in Ukraine and sanctions against Russia are one example of how business has changed. The elephant in the room is also the events taking place in China as well and developments in that region are a concern. As an energy company, we ride out boom and bust cycles, but it will not significantly change our long-term."
The opportunity for in-house lawyers
One of the clearest trends to emerge from the region was a view that the legal department is a cost center. More than one in-house lawyer went so far as to say: "We are not trying to view ourselves as a profit center"—but no respondent communicated that being a profit center was desirable. Rather, it was generally presented as a fact of life.
It makes sense then that one Singapore-based in-house lawyer said: "[Legal finance] is only for a particular kind of institution that would leverage it. For general disputes, I have not seen it become popular. The popularity is limited and depends on the jurisdiction. It is less common in Asia."
While currently true, the lack of more widespread use of legal finance in Asia should be seen by in-house lawyers of those geographies as an opportunity. In other regions of the world, legal finance has begun to look more like investment banking for law. Perhaps this is why one Singapore-based in-house lawyer stated that, "Today, [being presented with financing options] is very important for high-value cases."
Taken together, the clear desire among legal departments of companies in Asia to be presented with financing options and the relatively slower rate of adoption of legal finance in those markets suggests that GCs who take a more commercially minded approach to litigation could stand to gain—for themselves and for their businesses.
As one India-based in-house lawyer called out: "Everything depends on the global economic scenario." In a world where economic tensions and challenges are on the rise, legal departments would do well to assess the potential utility of legal finance—if they haven't already.