Companies are key to driving gender diversity in arbitration
International arbitration
Diversity in law
Giulia Previti is a Vice President at Burford Capital with responsibility for assessing and underwriting legal risk in investment treaty and international commercial arbitration matters and a member of the Equal Representation in Arbitration Corporate Sub-Committee. 
Ashley Jones is a senior knowledge lawyer at Freshfields Bruckhaus Deringer in London specializing in international arbitration and secretary of the Global Steering Committee and Corporate Sub-Committee for the Equal Representation in Arbitration.
Gender diversity in arbitration and across arbitral tribunals is increasing. Before 2012, women accounted for just 3.6% of the total population of arbitrators and 81.7% of tribunals were all-male panels; in 2019, women comprised 21.3% of arbitrators appointed. In May of this year, the first-ever all-female ICSID tribunal was constituted. In June, the International Chamber of Commerce (ICC) announced the election of its first female president in its nearly 100-year history.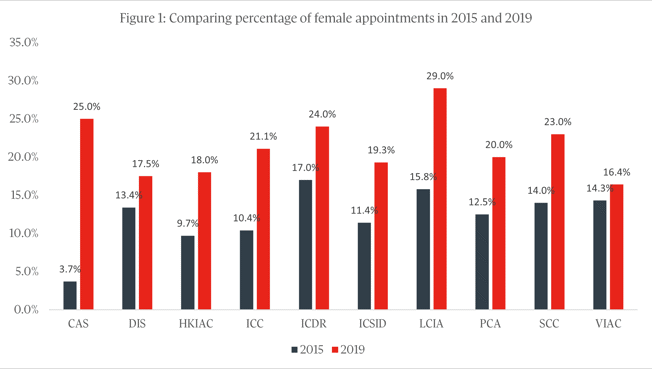 While these are encouraging milestones, the pace of change remains frustratingly slow, with women still accounting for only a fifth of arbitrators. Research from the Cross-Institutional Task Force on Gender Diversity in Arbitral Appointments and Proceedings and data from arbitral institutions indicate that the increase in the appointment of women arbitrators appears to have been driven mostly by the efforts of arbitral institutions rather than the parties engaged in the arbitral process.
Corporate parties, however, are ideally placed to exercise their economic clout to apply pressure on their external counsel to take meaningful steps in ensuring gender diverse tribunals.
Diversity in arbitral tribunals ensures integrity and efficacy
Increased gender diversity on arbitral tribunals is key to ensuring the integrity and efficacy of proceedings.
The inclusion of diverse arbitrators—including women arbitrators—can enhance legitimacy, particularly in investor-state disputes which raise public interest issues. Generally, tribunals should represent the broad spectrum of stakeholders impacted by their decisions to allow for a greater range of perspectives to bear on the decision-making process.
Selecting arbitrators from the usual small pool of mostly male candidates leads not only to issues of a perceived lack of legitimacy, but also to procedural inefficiencies. These could include a dearth of available arbitrators, delays in the rendering of arbitral awards and an increased potential for conflicts of interests—all of which parties will be keen to avoid.
Arbitral institutions are driving the increase in the appointment of women
While it is good news that the number of women appointed as arbitrators has nearly doubled over the past four years, the increase appears to have been driven mostly by the efforts of arbitral institutions rather than corporate parties.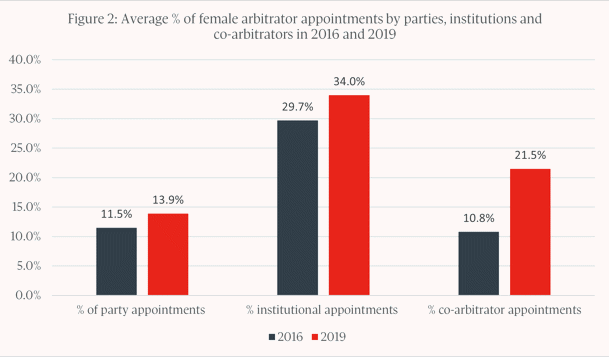 By way of example, the Stockholm Chamber of Commerce (SCC) recently analyzed its gender appointment statistics for the period 2015 to 2019 and found that, while parties were responsible for appointing 62% of all arbitrators, only 14% of party-appointed arbitrators were women. This stands in comparison to 30% of SCC Board-appointed women arbitrators. In other words, while the lion's share of appointments are made by the parties, the parties are also statistically far less likely to select women arbitrators. The SCC's 2020 statistics show some progress in terms of party appointments with the figure increasing to 23% from 16% in 2019.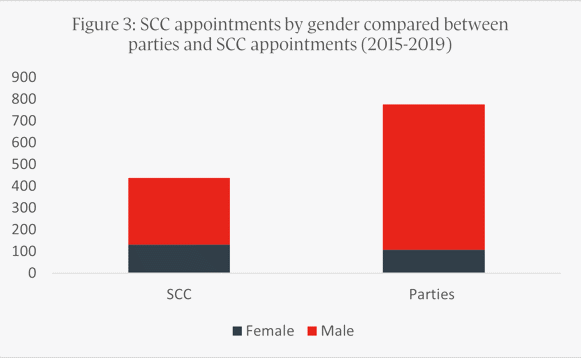 In the investment treaty context, the situation may be even worse. In 2020, ICSID reported its female appointments had dropped to 14% compared to 19.3% in 2019. And while respondent states appointed 22% female arbitrators, investor claimants appointed a woeful 2%.
Corporate parties have the greatest potential influence on gender diversity in arbitral tribunals
Another indicator that corporates are lagging in the push for greater diversity is that only about 7% of the nearly 5000 signatories to the Equal Representation in Arbitration Pledge (ERA Pledge) are corporations.
The ERA Pledge seeks to increase, on an equal opportunity basis, the number of women appointed as arbitrators in order to achieve a fair representation as soon as practically possible, with the ultimate goal of full gender parity.
While corporate parties are most frequently responsible for appointing arbitrators to panels, they may be less familiar with available arbitrator candidates than arbitral institutions and often rely on lists provided by external counsel. These lists may be narrower than the broad and balanced view of arbitrator candidates available to arbitral institutions.
As a result, in 2019 the ERA Pledge formed a corporate sub-committee to engage companies, financial institutions and other users of arbitration to raise awareness of the Pledge and drive forward its implementation. By signing the Pledge, a company signals its support, including to its external counsel, for a broader and more gender-balanced selection process.  In November 2020, the Pledge corporate sub-committee launched the Corporate Guidelines—a set of guidelines specifically designed for corporates to use to implement the diversity aims of the Pledge. 
In-house counsel can also significantly influence the gender diversity of the external counsel teams working for them, and in doing so, can enable women lawyers to gain additional experience that may one day lead to arbitral appointments.
Many forward-thinking companies are already using a combination of carrot and stick incentives to drive change. For example, in recent years corporations like Microsoft, HP and most recently Coca-Cola have provided stringent diversity expectations for external counsel. The message is clear: Provide us with diverse counsel or risk losing our business.
In-house counsel can use The Equity Project as a tool to move the needle
Companies that hire law firms to represent them have a significant role to play in bringing about change.  One way corporates can ensure that law firms are putting women into leadership positions on matters is through The Equity Project.
Since its launch, Burford has committed nearly $57 million to back women through The Equity Project—24% of it to international arbitration claims. Further, 40% of the 22 global Equity Project Champions—men and women who help ensure that women lawyers are aware of the capital available—are leaders in international arbitration and dispute resolution.
In-house lawyers may use Equity Project capital for matters they award to law firms on the proviso that a woman lawyer is receiving origination credit or leading the case. This improves women lawyers' internal profile within their respective law firms, as well as their prospects of being appointed as lead arbitrator in international arbitration proceedings.
To conclude, although change has been slow to come, it is encouraging that both law firms and their clients are increasingly aware of the importance and tangible benefits of diversity; with the proper tools, they can work collaboratively to make sure that women are given the opportunities they deserve to showcase their talents and ultimately achieve better outcomes for everyone involved.