In the wake of a Middle East business boom, legal finance is growing in importance
Asset recovery
International arbitration
Energy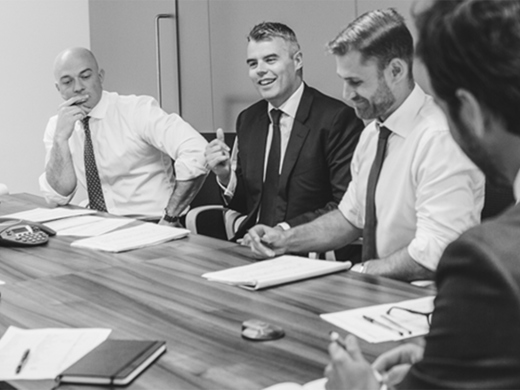 As business in Gulf Cooperation Council (GCC) countries continues to boom, it's likely that the number of high value commercial legal disputes will continue to grow—creating an increased need for sophisticated legal finance products and services to offset the very significant costs and risks associated with these disputes. At Burford, the world's largest legal finance provider, we have already seen substantial demand from the region, as an example we acquired two arbitration awards with a cumulative value of over $100 million and are actively enforcing these in the region.
One area of likely need is construction. The region is home to a high volume of large infrastructure projects either coming to completion or in progress: Nearly $100 billion worth of construction contracts in GCC countries are at some stage of the procurement process, with the majority expected to be awarded by the end of 2022.[1] Major projects to be awarded include the Borouge petrochemicals project, the subsea transmission line project in the United Arab Emirates (UAE) and the $500 billion Neom future city and Qiddiya entertainment city project in Saudia Arabia, to name but a few.[2] And where there are large scale construction projects, by nature long-term transactions with high uncertainty and complexity, there will inevitably be an increase in related disputes and a need for financing solutions to manage the cost and risk of these disputes.
One pragmatic tool to help manage the associated costs and risks of disputes is legal finance, also known as third-party funding or litigation funding. A professional legal financier provides capital that companies can use to offload the cost and risk of pursuing meritorious litigation, whether on a single-case basis or as part of a larger recovery effort. Since the Dubai International Financial Centre (DIFC) Courts first released Practice Direction No.2 in 2017[3] and the Abu Dhabi Global Market (ADGM) issued §225 ADGM Courts Regulations 2015,[4] which established the correct procedures for funded matters to proceed, the market for legal finance in the MENA region has grown rapidly.
The MENA region is increasingly becoming a preferred forum for disputes
With a business boom spanning several sectors, the MENA region is seeing a rise in disputes, many of them complex multijurisdictional disputes.
Energy
Just under half of the world's oil reserves and over one third of the world's gas reserves can be found in the Middle East.[5] Saudi Arabia has the largest reserves of oil in the region and the second largest reserves in the world.[6] Because of the importance of the region to global energy production, the region is becomingly an increasingly important forum for energy arbitrations.
The number of energy disputes being arbitrated overseas involving MENA parties is also on the rise: In 2020, 16.7% of the London Court of International Arbitration (LCIA)'s total cases consisted of parties from MENA, of which energy and resources disputes constituted 26% of the LCIA's total caseload.[7]
Construction
As previously mentioned, the region has seen an influx of high value construction projects and infrastructure investment. Arguably the highest profile of these is Qatar's infrastructure development in the build up to the World Cup 2022. Estimates of the total cost of this project are more than $300 billion, including all the hotels, roads, new sewage systems, public spaces, transport and new stadiums that have been built over an accelerated timeline.[8] Following the delayed Expo 2020 in Dubai and Saudi Arabia's Vision 2030, rapid growth in infrastructure and investment in the region will continue. The region's construction industry also faces inherent challenges in making the transition away from oil and gas economies.
Disputes are an inevitable outcome of so many high-value projects involving a range of jurisdictions and legal regimes comprising civil and Sharia law. These construction projects will likely involve convoluted cross-border elements, with all the complex legal factors this entails, and involve many parties other than the main parties to the contract. Further still, construction projects globally continue to be affected by the increased pressures of cost inflation, supply chain bottlenecks, labour and skills shortages as well as the ongoing threat of viral outbreaks and extreme weather events.
General business
In addition to growth in these industry sectors, GCC countries are becoming increasingly popular jurisdictions for structuring and holding ownership of companies. Foreign direct investment into the UAE rose to $20.7 billion in 2021.[9] This increase in business activity in the region will unavoidably lead to more contractual and shareholder disputes further down the road.
Navigating the legal costs of a rise in disputes through legal finance
While contracts are being awarded at an extraordinary pace in the region, this also means that competition is growing, interim payments are slowing and project costs and time overruns are escalating. This will create cash flow difficulties and lead to commercial disputes in some instances, resulting in potentially lengthy and expensive legal proceedings.
Legal finance can help provide a solution to these challenges. When a company has been harmed and pursuing an expensive and high value claim is the only way to recover what it is owed, legal finance can be used to shift legal costs associated with pursuing the claim—or many claims at once to a third party. Funders can also advance a portion of the expected entitlement for a pending claim or claims, thus enabling a company to put money to work today rather than waiting for a resolution through settlement or trial. Legal finance is typically provided on a non-recourse basis, with the financier only recovering its costs and a return if the claim is successful. Companies all over the world now view legal finance as an effective financial or risk management tool allowing them to reduce their legal costs and reallocate valuable resources to core business needs while ensuring that high value claims are properly pursued. Companies maintain control of their financed claims, except in instances in which selling a claim is permissible and makes more strategic sense.
Enforcing judgments in the UAE
Following the seminal recent decision in Lenkor[10], a reciprocal reverse arrangement has been established between English Courts and the UAE. On the 13 September 2022, the UAE Ministry of Justice called upon the Dubai Courts to enforce judgments of the English Courts in the UAE going forward, based on principles of reciprocity.[11] This will increase confidence for creditors looking to enforce English Court judgments in the UAE and make recovery of judgment debts easier. It also opens additional avenues for arbitral award creditors to proceed directly to the Dubai courts once a London-seated award has been enforced (as an alternative to the standard New York Convention route or use of the DIFC Courts as a gateway).
Despite signs that recovery of judgment debts is becoming easier to enforce, asset recovery in the region still requires significant access to capital, substantial experience and expertise. Professional legal finance providers like Burford are uniquely placed to navigate the complexities of the MENA enforcement landscape, giving clients the benefit of combined capital and investment expertise.
For example, as previously mentioned, Burford recently acquired at a discount two arbitration awards with a cumulative value of over $100 million from a well-known global manufacturer. The company faced years of complex, high-cost multi-jurisdictional enforcement proceedings across multiple challenging jurisdictions to unlock the latent value of the awards, when it instead preferred to focus on operating its business. Burford took the full risk of recovery while still maintaining upside for the company. The company was able to de-risk the whole recovery effort and transform its judgment debts from "legal paper" into cash, unlocking immediate liquidity that could then be used for other business purposes.
There has also been increased interest among banks in the UAE for the organized sale of Non-Performing Loan (NPL) portfolios alongside legal finance partnerships for asset recovery. Banks have been quite conservative in their approaches in dealing with their bad books till now, and many hadn't even heard of legal finance until recently. Of course, secondary market sales of NPLs have been ongoing for many years but those have been the sale of individual debts as opposed to a formal sale strategy of a portfolio itself. By partnering with a professional legal finance provider, banks can get further value from their existing books of bad debts without any of the usual cost or risk involved in these kinds of enforcement processes.
[1] "Prospects start to brighten for GCC contractors," Middle East Business Intelligence, November 2, 2021, https://www.meed.com/prospects-start-to-brighten-for-gcc-contractors
[2] ibid 
[3] Practice Direction No. 2 of 2017 on Third Party Funding in the DIFC Courts, https://www.difccourts.ae/rules-decisions/practice-directions/practice-direction-no-2-of-2017-on-third-party-funding-in-the-difc-courts
[4] ADGM Courts, Civil Evidence, Judgments, Enforcement and Judicial Appointments Regulations 2015, https://www.adgm.com/documents/courts/legislation-and-procedures/legislation/regulations/adgm-courts-regulations-2015-amended-240620.pdf
[5] Thomas R Snider and Khushboo Shahdadpuri, "Energy arbitrations in the Middle East," Global Arbitration Review, April, 29, 2022, https://globalarbitrationreview.com/review/the-middle-eastern-and-african-arbitration-review/2022/article/energy-arbitrations-in-the-middle-east
[6] ibid
[7] ibid
[8] Simone Foxman, "With Two Months to Qatar's World Cup, There's a Lot Left to Do," Bloomberg UK, September 22, 2022, https://www.bloomberg.com/news/features/2022-09-22/fifa-world-cup-in-qatar-brings-new-infrastructure-hotels-stadiums
[9] "UAE attracts foreign direct investment of $20.7 bln in 2021 - economy minister," Reuters, March 28, 2022, https://www.reuters.com/world/middle-east/uae-attracts-foreign-direct-investment-207-bln-2021-economy-minister-2022-03-28/
[10] Lenkor Energy Trading DMCC v Puri (2020) EWHC 75 (QB)
[11] "A Major Leap Towards Reciprocity in the Enforcement of Judgments Between the English and Dubai Courts," Gibson Dunn, September 15, 2022, https://www.gibsondunn.com/a-major-leap-towards-reciprocity-in-the-enforcement-of-judgments-between-the-english-and-dubai-courts/